Toronto, Ontario–(Newsfile Corp. – July 6, 2023) – Exploits Discovery Corp. (CSE: NFLD) (OTCQX: NFLDF) (FSE: 634) ("Exploits" or the "Company") is pleased to announce commencement of an airborne LiDAR ("Light Detection and Ranging") and a magnetics survey that will cover the Company's prospective Gazeebow South and Glenwood mineral licenses within the Gander-Appleton region. These helicopter-mounted surveys will provide high-resolution geological information over these under-explored areas covering approximately 120 km2 of the parallel Appleton and Dog Bay faults attributed with several high-grade gold showings in central Newfoundland. Exploits has engaged local RPM Aerial Services ("RPM") of Holyrood, NL as the principal contractor.
Data from the LiDAR and magnetics survey will be used in addition to the current mapping, prospecting, and sampling information to identify high-priority targets for follow-up. The survey uses radar to accurately measure the earth's surface and classify structural lineaments that would have otherwise been obscured by vegetation.
The goals of this program will be the following:
Assist with confirming the location and orientation of known gold-bearing structures (Appleton Fault Zone and Dog Bay Line) within the Exploits Subzone
Identify new geological outcrops in areas of extensive vegetation
Detect mineralization and alteration patterns within the bedrock
Identify structures such as shears, faults, fractures, and folds
Generate a high-resolution digital elevation model
Assist with the design of an upcoming gold-in-till geochemistry survey
Jeff Swinoga, President and CEO, comments, "The centimetre-scale topographical data from these surveys will greatly assist our field geologists and prospectors in identifying the most promising target areas beyond our Bullseye gold discovery. The goal of this year's field exploration program is to generate and advance new targets along northern prospective fault lines leading to a drilling decision later this year. "
RPM is a Canadian company with its corporate office located in Holyrood, Newfoundland and is a provider of high-density geospatial data using LiDAR, Magnetometer, Photogrammetry and various other professional geospatial systems. RPM utilizes a variety of methods to collect client data, including Helicopter, Drone/RPAS, Vehicles, and Backpackable systems. RPM is also heavily involved in various development projects in collaboration with both local and international technology companies for the purpose of enhancing data collection and data management solutions.

 
Figure 1: Exploits 2023 airborne LiDAR + Magnetics survey areas.
 
To view an enhanced version of this graphic, please visit:
https://images.newsfilecorp.com/files/6393/172474_ff783aa80402cb58_002full.jpg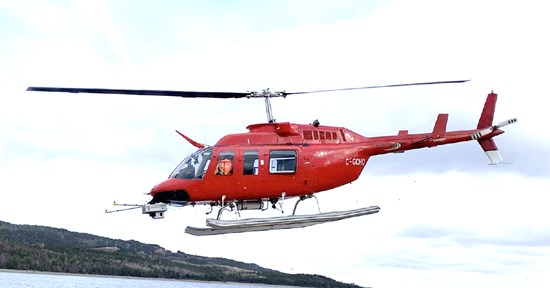 Figure 2: RPM Aerial Services helicopter mounted systems.
 
To view an enhanced version of this graphic, please visit:
https://images.newsfilecorp.com/files/6393/172474_ff783aa80402cb58_003full.jpg
National Instrument 43-101 Disclosure
Ken Tylee, P.Geo., VP of Exploration with Exploits, is a qualified person within the Provinces of Ontario and Newfoundland and Labrador as defined by NI 43-101. Mr. Tylee has reviewed and approved the technical information presented herein.
About Exploits Discovery Corp.
Exploits is a Canadian mineral exploration company focused on the acquisition and development of mineral projects in Newfoundland and Labrador, Canada. The Company is focused on discovering high-grade structurally hosted epizonal gold similar to New Found Gold's success along the Appleton Fault zone and parallel structures within the Exploits Subzone.
Exploits is utilizing its experienced, talented local team and geologic understanding with the vision to become one of the most successful explorers in Canada.
On Behalf of the Board
/s/ "Jeff Swinoga"
President and CEO
For more information, please contact:
Shanda Kilborn
VP, Investor Relations
+1 (778) 819-2708
investors@exploits.gold
https://exploitsdiscovery.com
Neither the Canadian Securities Exchange nor its Regulation Service Provider (as the term is defined in the policies of the Canadian Securities Exchange) accepts responsibility for the adequacy of accuracy of this news release.
Forward-Looking Statements
This news release contains certain forward-looking statements, which relate to future events or future performance and reflect management's current expectations and assumptions. Such forward-looking statements reflect management's current beliefs and are based on assumptions made by and information currently available to the Company. Readers are cautioned that these forward-looking statements are neither promises nor guarantees, and are subject to risks and uncertainties that may cause future results to differ materially from those expected including, but not limited to, market conditions, availability of financing, actual results of the Company's exploration and other activities, environmental risks, future metal prices, operating risks, accidents, labor issues, delays in obtaining governmental approvals and permits, and other risks in the mining industry. All the forward-looking statements made in this news release are qualified by these cautionary statements and those in our continuous disclosure filings available on SEDAR at www.sedar.com. These forward-looking statements are made as of the date hereof and the Company does not assume any obligation to update or revise them to reflect new events or circumstances save as required by applicable law.
Acknowledgments
Exploits Discovery would like to acknowledge the financial support of the Junior Exploration Assistance Program from the Department of Natural Resources, Government of Newfoundland and Labrador.
To view the source version of this press release, please visit https://www.newsfilecorp.com/release/172474